6GESS Day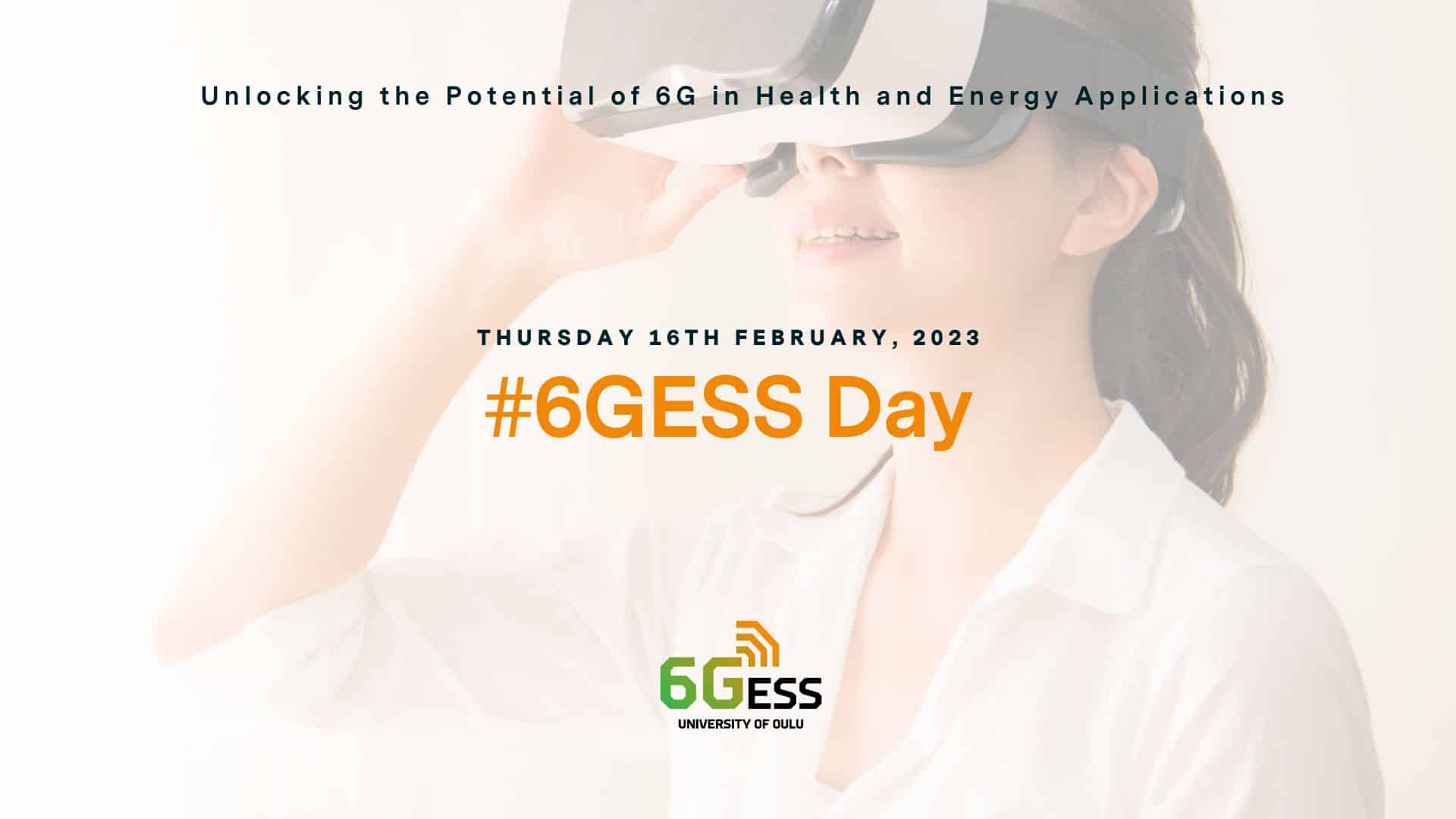 Save the date for February 16th, 2023, for 6GESS Day!
Join us for a fascinating event highlighting cutting-edge 6G health and energy applications research from prominent international professors, 6GESS professors, and assistant professors.
The event will go off with an opening speech by 6G Flagship Director, professor Matti Latva-aho, followed by a day of presentations and discussions on the most recent advancements in 6G technology. Maritta Perälä-Heape, the honorary speaker, will deliver the closing remarks.
The 6GESS day will be held at Lasaretti in Oulu, but it will also be available online. It's an event you won't want to miss, hosted by the Oulu University 6G-enabled sustainable society (6GESS) profiling research programme. Keep an eye out for more information and registration details, which will be available soon.
SCHEDULE
Time
Topic
Speaker
8:30
Morning coffee and welcoming words
Professor Johanna Uusimaa (6GESS leader)

Professor Ari Pouttu (6GESS vice-leader)

9:00
Plenary lecture: "Future visions"
Professor Matti Latva-Aho (6G Flagship leader)
9:30
6GESS theme 1: Citizen-centered health data solutions
Professor Elmar Kotter (Imaging Informatics, Quality and Risk Management at the Department of Radiology Freiburg University Medical Center, Freiburg, Germany)

Professor Minna Isomursu (MIPT & M3S, University of Oulu)

9:30
6GESS theme 1: Citizen-centered health data solutions
10:30
6GESS theme 2: Ubiquitous digital care pathways and service models in secure and intelligent environments
Professor Arild Faxvaag (Health Informatics, NTNU, Trondheim, Norway)
10:30
6GESS theme 2: Ubiquitous digital care pathways and service models in secure and intelligent environments
Professor Paul Johannesson (Computer and Systems Sciences, Stockholm University, Sweden)

Associate Professor Teemu Myllylä (MIPT, University of Oulu)

12:00
Lunch

13:15
6GESS theme 3: Future AI-tailored wireless hospital
Professor Christopher Baum (Berlin Institute of Health at Charité (BIH), Berlin, Germany)

Assistant Professor Aleksei Tiulpin (MIPT, University of Oulu)

14:15
6GESS theme 4: Sustainable energy systems empowering users with digital services
Professor Peter Lund (Aalto University, Finland)

Associate Professor Mehdi Rasti (CWC & WE3, University of Oulu)

15:15
Coffee

15:45
6GESS theme 5: Energy efficiency of digitally enabled user-centric systems
Professor Eva

Pongracz

 / other theme professor

Assistant Professor Italo Atzeni (CWC, University of Oulu)

16:45 – 17:30
Honorary speaker
Professor of practice Maritta Perälä-Heape
18:00
Cocktails & networking, Dinner
Related Events