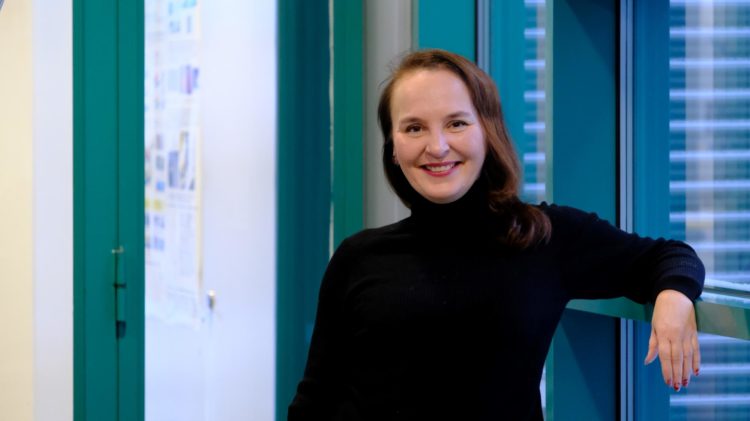 Professor Minna Isomursu's mission: Technology for promoting health
<![CDATA[
Minna Isomursu, who has already built a long career connecting technology and health, has started as a new professor in the profile area (Profi6) at the University of Oulu. Her professorship is part of the 6GESS research entity.
More than thirty years ago, Minna Isomursu was happily on her way to the architecture entrance examinations. She was concentrating on driving the car when suddenly there was a crash. She immediately realised that the crash would postpone the realisation of her dreams by at least a year. She missed the entrance examinations, but luckily chose computer science as her second option, and thanks to good papers, she got straight into the University of Oulu.
"I thought that I would spend a year casually studying IT, but then I got excited," she recalls.
Her interest in IT was not a sudden burst but perhaps more a realisation, brought on by increased knowledge, that she was able and capable. Few people know what they are good at and where they should eventually go when they are still in upper secondary school. Minna Isomursu is now one of the leading professors at M3S, Europe's largest university software engineering research unit, who has an extensive career in ICT and who will, for example, coordinate cooperation with the WHO and lead multimillion-dollar projects in the future. It certainly does not matter that society may have lost a good architect. Things have fallen into place. Although, naturally, it has taken a lot of hard work.
The career path can only be seen after following it
Minna Isomursu's career path has not been straightforward but rather a winding one, albeit in a good way. But how winding has it really been?
"I have never been directly goal-oriented but rather just seized new opportunities. On the other hand, my career hasn't been treading water; instead I've enjoyed working on new challenges."
Once again, Minna is eagerly stepping into something new. It will continue the research connecting health and technology, which has been her primary interest for more than 20 years.
"I graduated with a master's degree in the early 1990s, when there was a need for educated professionals, even though there was a recession. I got a job at VTT Technical Research Centre of Finland and did my PhD before the turn of the millennium. After that, I went to Nokia. And from there I moved to a small company for a while. I was riding high. I started my first professorship at the university in 2002 and then moved on to VTT as a research professor. Already then, I was doing research primarily on health-related topics."
From VTT, Minna returned to the University of Oulu for a year and then moved to Denmark for three years because she wanted to gain work experience abroad.
"One application and I got lucky."
To complete the circle, she moved from Denmark back to Oulu and became a professor at the university.
Digitalisation is not just about digitisation
Minna Isomursu is currently focusing on two major areas in her research. They are the digitalisation of care pathways and issues related to big data infrastructures.
"I want to take the opportunity to work more intensively with medical experts. Research on digital care pathways is an area I can add value to with my expertise. This research includes many interesting sub-areas, such as creating and designing care pathways and making them as effective as possible. There is also a lot of potential to benefit from in the large European databases.
There is a lot of pressure to digitise healthcare. Information what to look out for to make the transition successful is needed.
"The future must not just be a digital caricature of the analogue. It is not simply about digitisation. Now we can create something that didn't exist before, things that couldn't be done before. Health is currently under strong political control in society. The idea is that digitalisation needs to happen, and that involves big objectives. But it is not just a matter of implementation. It must first and still be studied. What is it about digitalisation that makes sense, what are the real benefits and impacts?"
Minna's previous title was Professor of Information Systems Science. The new title has digital health in it. She sees it as essential, meaning that digital health is the core and not just one sub-area of information systems.
"Now digital health expertise is becoming visible in a concrete way.  The essential thing about this new position is that it is between two faculties. I will be working concretely with experts from two different disciplines. The dialogue and the combination of different types of information create something new, which I call a knowledge resource."
Minna Isomursu's explicit goal is that research results should increase people's well-being. However, one cannot always succeed. The work of a researcher involves constantly managing failures. The level of risk and the ambition must be high enough, and then it is possible to succeed.
"I genuinely believe that data and technology can help us be healthier. This is the information that the research I conduct and lead must provide."
The future is in the use of data
Regarding her new professorship, Minna explains briefly that 6GESS is the framework within which the work is done. In general, 6G is a large research entity, the benefits of which will only become apparent through future work. It needs to be studied from as many angles as possible.
"From my research perspective, 6G is a big vision for the evolution of data transfer and a data-driven world. In the future, we will be better able to make use of data. The data environment is improving, unlocking and enabling things in the health sector that are still in their infancy. We are also looking for new possibilities and implementations through research."
As for the future, Minna mentions only a few tangible things. The reflection is, perhaps surprisingly, not even related to a single project or research but more broadly to the structures of the academic working environment and the development of a working culture.
"I would like the university to be a community for all kinds of people. Open to difference and diversity. As an institution, we need more inclusion. In the context of diversity, I would like to see us researchers also succeeding in reforming the university world and, through it, society as a whole. I see the expansion of cross-faculty cooperation as a good way to break down barriers and work together more effectively. Then the university will be better able to respond to the new needs of society in education and working life. I would like to play my part in making the academic world more inclusive and not as fragmented as it is now."
She has ambitions, and clear plans, of course. Still, fate can lead unexpectedly to the right thing, so it needs to be given space and time. Professor Minna Isomursu is currently working in her dream job that she never even dreamed of when she was young. Sometimes an accident is a stroke of luck.
Profile areas are where the University of Oulu ranks among the international leaders in science.
The 6G-enabled sustainable society (6GESS) programme based on the 6G technology leverages the technological expertise of the 6G Flagship to develop a scientific framework for a data-driven future society built on a dense telecommunications network, where digital health and future energy systems are interconnected.
6GESS is exploring new technologies to help future health and energy systems to become more democratic and efficient. It also helps healthcare services, energy suppliers, and citizens to become more involved in the developing and adopting data-driven and digitised solutions.
Read also:
Thora Herrmann's research is a marriage between science and art
Interest in the nature drives medical researcher Ali Mobasheri toward new solutions for osteoarthritis
]]>